Graphical User Interface for the Inertial Sensors Calibration
The Generalized Method of Wavelet Moments (GMWM) is a recently proposed statistical approach that allows to estimate the parameters of (complex) time series models in a simple and efficient manner. It is therefore an extremely useful tool to estimate the models underlying the composite processes that characterize the measurement errors of (low-cost) Inertial Measurement Units (IMU). Moreover, aside from efficiently estimating these complex models, the GMWM framework also provides a procedure to select the best model for the data (within a set of given models) based on a prediction-accuracy criterion called the Wavelet Variance Information Criterion (WVIC).
This online platform provides an easy-to-use GUI that allows practitioners to load their calibration data, compare it to the datasheet specifications, identify and estimate potential models as well as select the best candidate among a given set of models.
Installation Instructions
To use the gui4gmwm package, there are currently two options:
Online Application
The online platform can be accessed by visiting the webpage ggmwm.smac-group.com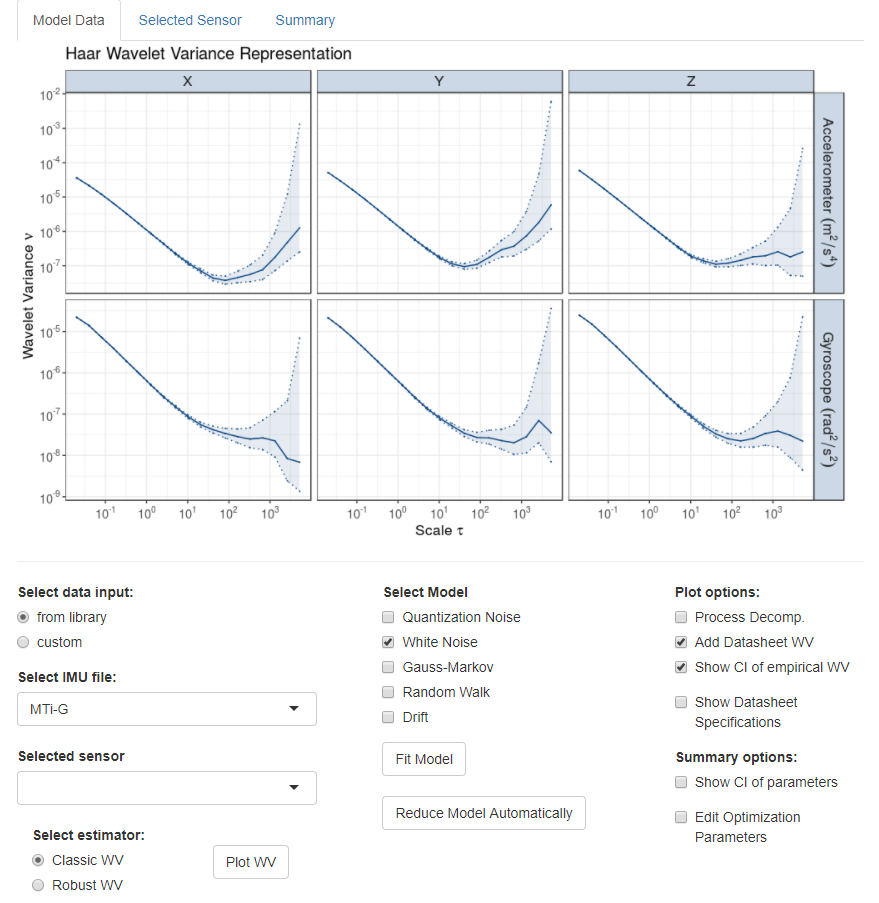 Installing through GitHub
The following R packages are also required. Run the following code in an R session and you will be ready to use the development version of gui4gmwm.
# Install dependencies 


devtools::

install_github

(

"SMAC-Group/gmwm"

)
devtools::

install_github

(

"SMAC-Group/imudata"

)


install.packages

(

c

(

"scales"

, 

"reshape"

, 

"shiny"

, 

"shinydashboard"

, 

"leaflet"

))



# Install the package from GitHub


devtools::

install_github

(

"SMAC-Group/gui4gmwm"

)
Once the gui4gmwm is installed you can run locally the Graphical User Interface (GUI) by using:
library

(gui4gmwm)


runApp

(

"gui4gmwm"

)